Quinn (Companion Home Only)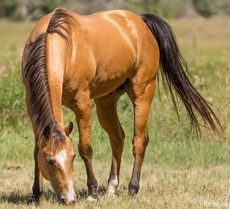 Quinn is a beautiful buckskin gelding who was foaled in approximately 2006 and who stands 14.3hh. He originally came to us from a 2013 humane case. We have reason to believe Quinn is an Akhal-Teke x quarter horse cross. He was very thin at intake and had been kept in a stall with another horse who had beat him up pretty badly. He had large hematomas and cracked ribs. He'd also not had much farrier care (and had possibly been handled roughly while having hooves trimmed) and was terrified of being trimmed. Luckily, with kind handling and training he has gotten over this fear.  Unfortunately, a more recent veterinary evaluation showed us that Quinn has a rare condition of the navicular bones in both front feet. The navicular bones have formed with a fibrous band holding the two halves together rather than a solid piece. because of this Quinn is a companion horse/pasture pet only.
Update May 2022: new radiographs show us that Quinn's navicular condition in his fronts has worsened. He also just received Adequan injections and is on daily Equioxx. Quinn is currently in a foster home where he is receiving great care (thank you, Lois and to Cleary Lake vets!). His pain is well under control at this time and his quality of life is good. We are monitoring him closely.
https://mnhoovedanimalrescue.org/wp-content/uploads/2019/07/quinn-website-aug-2022.jpg
209
230
mharf
https://mnhoovedanimalrescue.org/wp-content/uploads/2016/05/mainlogo_blue02.png
mharf
2019-07-23 13:06:35
2022-08-15 16:18:54
Quinn (Companion Home Only)