Hazel (Currently in Rehab)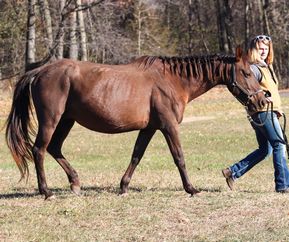 Update 10/11/23: Hazel and Thunderbolt were discharged from AEVS and are now enjoying life at HH Stables. Hazel will be available for adoption after Thunderbolt is weaned in late spring of 2024.
Update: 10/04/23: Hazel continues to improve with treatment at AEVS. Thunderbolt is doing very well.
Update 10/02/23: Hazel and Thunderbolt were transported to Anoka Equine Veterinary Services on 09/30/23 so Hazel could receive in-hospital treatment for a uterine infection.  She is currently receiving I.V. fluids, antibiotics, pain meds, and uterine flushing. Thunderbolt is also receiving a course of antibiotics. Hazel's milk is drying up, so Thunderbolt is on supplemental feeding of Mare's Match Foal Milk Replacer.
Update 09/29/23: Hazel gave birth to a big palomino colt early this morning. In honor of the rumbling thunder outside during the foaling, we have named him "Thunderbolt". Mare and foal are doing well. Hazel is being treated for an udder abscess, but Thunderbolt is nursing just fine. (And how nice to have access to a warm and spacious foaling stall for these two at HH Stables while the cold rain poured down outside!)
Hazel is a liver chestnut mare who came to MHARF in a September 2023 Carlton County humane case. She is in foal and is due sometime in October. She is currently in our rehab program and not yet available for adoption. She is friendly mare. We will post more information soon.
https://mnhoovedanimalrescue.org/wp-content/uploads/2023/09/Hazel-website-2023-nov.jpg
242
289
mharf
https://mnhoovedanimalrescue.org/wp-content/uploads/2016/05/mainlogo_blue02.png
mharf
2023-09-20 14:38:29
2023-11-28 11:17:54
Hazel (Currently in Rehab)